Shenandoah Community School District Welcomes New Student Resource Officer - David Erickson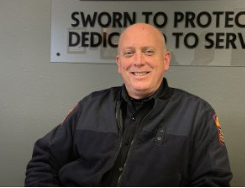 Shenandoah Community School District is thrilled to introduce David Erickson as the new Student Resource Officer (SRO). SROs actively engage with students, parents, and school administrators, offering educational programs and mentoring initiatives to promote character development and social responsibility. Officer Erickson will embody a proactive and community-oriented style of policing while fostering positive connections with students to build trust and understanding.
As a former Lieutenant and Chief of Police with over 25 ½ years of service in the field, Officer Erickson brings a wealth of experience to his role as the SRO. "Our investment in this position is not only about maintaining security but also about bridging the gap between our community's adults and our students," states Superintendent Dr. Kerri Nelson. Officer Erickson's extensive background as an initiator of youth programs demonstrates his dedication to building lasting support and mutual respect between law enforcement and young individuals.
One of the key aspects of Officer Erickson's responsibilities, in addition to providing security, will be active involvement in mentoring and character development programs for students. He firmly believes in the power of positive role models and aims to inspire students to make positive choices while developing valuable life skills. He will be present throughout all school facilities and involved with all ages of students. "We want to be clear, he's not simply a deterrent. He's a part of our Mustang and Fillie team. He'll be involved with our students every day leading by immersing himself in our already positive and safe learning culture. We want him to be someone our students feel safe approaching with questions and getting advice," adds Andrew Christensen, High School Principal.