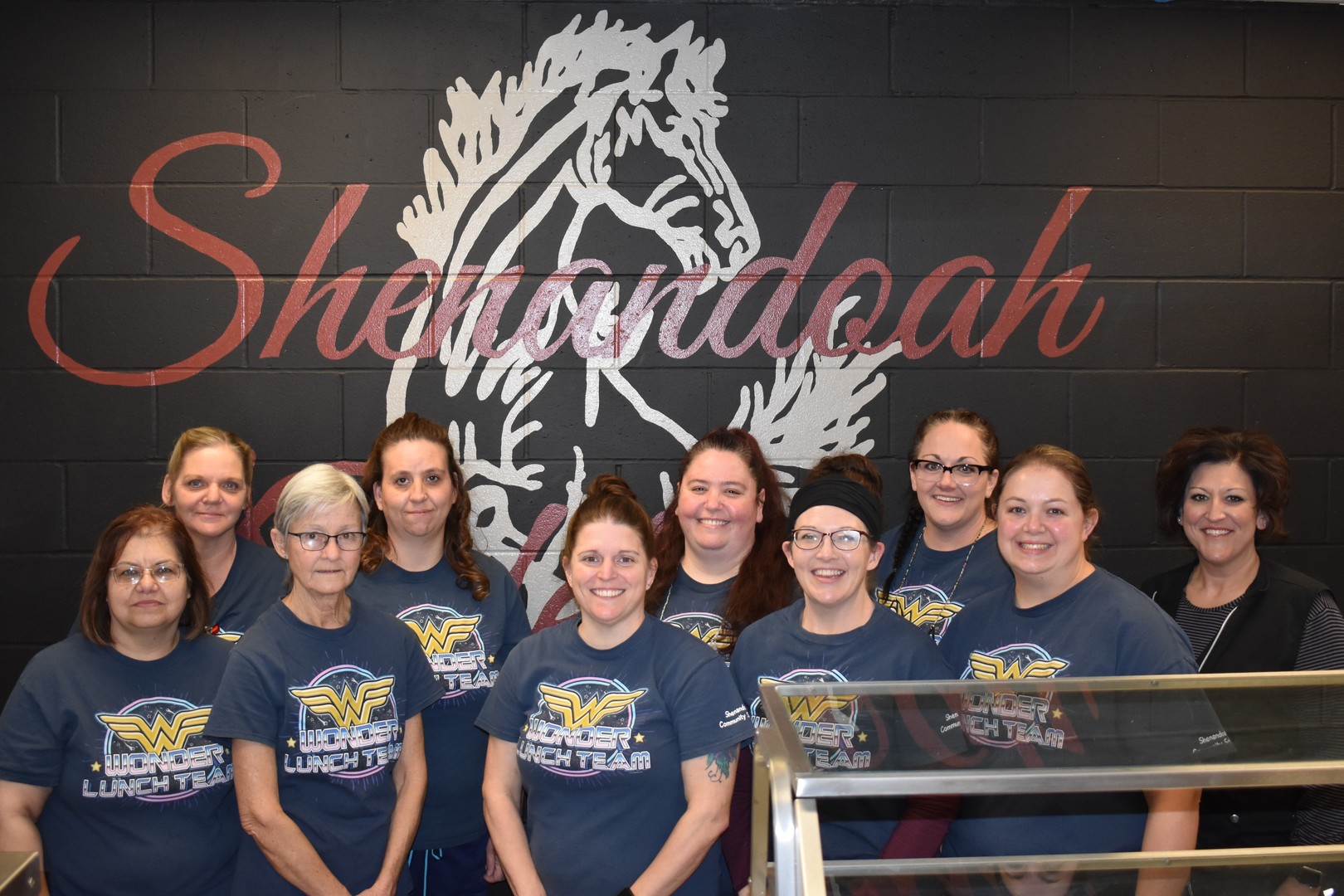 Mission Statement:
The purpose of the Shenandoah Community School District Nutrition Department is to provide nutritious foods to all age groups abiding by the HHFKA guidelines. The employees will be adaptable to changes that will present to us to make sure we are always customer-focused by utilizing strong teamwork skills and integrity. The team members will be dependable to make sure these duties are carried out timely, enthusiastically, and following guidelines.

The Shenandoah Community School District offers Offer VS Serve food choices. At breakfast, there will be 4-5 choices available in different breakfast models. At lunch, your child will need to choose 3 components, but 5-6 options will be available. New signage will be up so your child will be more educated about making some good choices in their diet.

The Shenandoah Community School District's goal is to offer an increased amount of fruits, vegetables, and whole grains to school menus while ensuring children are provided appropriate calorie ranges to ensure a healthy and active lifestyle.
Catering & Classroom Party Treats The Shenandoah Community School District now offers catering. We offer multiple options for breakfast, lunch, dinner, treats, desserts, party platters, salads, appetizers, and soups. The full menu can be seen by clicking the Quicklink to the left. Please allow 5 days notice when ordering. PLACE ORDER HERE!
Dine With Us Guests are welcome to eat lunch with their student(s) at the JK-8 Building. Please let us know you will be joining us a day in advance. Prices for adult meals are listed below. CURRENTLY UNAVAILABLE DUE TO COVID-19.
Meal Prices
Adult Breakfast - $2.50
Adult Meals - $3.90
Student Breakfast - $2.00
High School Lunch - $2.85
Middle School Lunch - $2.65
Pre-K & Elementary Lunch - $2.45
A la Carte and Grab 'n' Go options are priced individually.

Meal Charge Policy: In accordance with state and federal law, the Shenandoah Community School District adopts the following policy to ensure families, students, school district employees have a shared understanding of expectations regarding meal charges. Meal Charge Policy

Lunch Money can be deposited online on MYSCHOOLBUCKS.com
Shenandoah Community School District is participating in the Summer Food Service Program. Meals will be provided to all children without charge and are the same for all children regardless of race, color, national origin, sex, age or . . .